The Maritime Administration Assists Museum Ships Interpret U.S. Maritime History
The Maritime Administration (MARAD) helps to promote and preserve U.S. maritime history by supporting the dozens of U.S. memorial/museum ships located throughout the country. Through its authority in the Coast Guard Authorization Act of 1996, MARAD has transferred thousands of artifacts and pieces of equipment from its obsolete National Defense Reserve Fleet (NDRF) vessels to qualified museum ships for more than two decades to assist them in their public outreach and educational mission.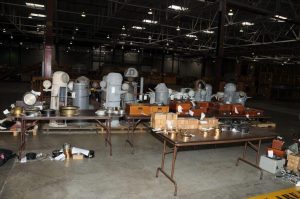 Memorial ships serve an important function but are expensive to maintain. These floating museums help to explain our Nation's maritime legacy by interpreting their own vessel's history, their role in the larger context of historical events, and by telling the stories of those who served aboard. Providing obsolete authentic ship equipment and historic artifacts to these organizations saves them tens of thousands of dollars that would otherwise be required to obtain restoration materials.  While this property is excess to MARAD's needs, the transfer program has been instrumental in helping these organizations maintain their vessels and programs.
In some cases, this material cannot be sourced elsewhere and as such, serves a critical function, especially for the operating museum ships. SS John W. Brown, SS Jeremiah O'Brien, SS Lane Victory, and SS American Victory currently provide "living" histories by maintaining an operating condition and providing cruises for the public.  These vessels, along with SS Red Oak Victory, were originally constructed by MARAD's predecessor agency, the U.S. Maritime Commission, and MARAD donated the ships to these non-profit organizations from its reserve fleet.  MARAD appreciates both the challenges that these organizations face in keeping these veteran ships safe, afloat and at-sea, and the role that they play in interpreting a significant chapter in the Nation's maritime history.
MARAD has transferred artifacts from its retired merchant ships to many former U.S. Navy vessels that are now museum ships including USS Hornet (CV-12), USS Iowa (BB-61), USS Massachusetts (BB-59), USS Texas (BB-35), USS Slater (DE-766), USS Pampanito (SS-383), and many others.  Transferred material includes such artifacts as ships clocks, bells, barometers, gyro repeaters, engine order telegraphs, binnacles, azimuth circles, oars, and any number of other items that assist these ships in their operation or historical interpretation.
For example, in 2011 MARAD transferred clocks from the obsolete merchant vessels SS Cape Borda and SS Northern Light, gyro repeater stands from the decommissioned U.S. Navy vessels USS Nereus (AS-17) and USS Sperry (AS-12), gyro repeaters from USS Tulare (LKA-112), and parallel motion protractors from USS Ashtabula(AO-51) to the memorial ship USS Texas, saving the organization thousands of dollars.  These four former navy vessels were in MARAD's NDRF awaiting disposal.
For the steam-powered Red Oak Victory, locating the right parts such as valves can be difficult, but as Dave Penn, purser for Red Oak Victory in Richmond, California points out "MARAD has come in and has been a great help as far as getting parts like this."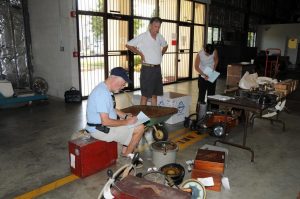 MARAD goes to great lengths to accommodate requests from these floating museums and assists them with finding useful material. The agency provides the memorial ships' work parties with direct access to vessels laid up in the reserve fleets and allows them to select available material.  Memorial ship representatives generally submit a "wish list" to MARAD, and the agency works with them to locate any available items.  MARAD's fleet site personnel provide safety briefings and escort them to the ships and supervise the removal operations.
In addition to assisting memorial ship groups procure property directly from NDRF vessels, MARAD has hosted "open houses" and welcomed these groups to visit and select items previously removed from ships that the agency had classified as excess prior to their sale or disposal.  In July 2013, MARAD staff travelled to the Suisun Bay Reserve Fleet in Benicia, California to identify excess property available for transfer.  During this trip, staff also conducted an open house at the pier near the memorial ship USS Hornet in Alameda, California.  During this open house, MARAD transferred hundreds of objects, from lifeboat oars to fire nozzles, to six museum ships that included the following former U.S. Navy ships: USS Cavalla (SS-244); USS Iowa; USS Hornet; USS Lucid (MSO-458); USS Pampanito; and USS Texas.  Similar open houses have been conducted at the reserve fleet anchorages at Beaumont, Texas and Suisun Bay, California, and at the agency's former warehouse in Chesapeake, Virginia.
While MARAD assists these museum ships in their mission, it does provide stipulations on the transferred property. Although the artifacts become property of the memorial ship, it cannot be sold, loaned, or transferred to any other organization or individual, even if the proceeds from a sale would benefit the memorial ship. Additionally, transferred artifacts can only be used on the memorial ship; they may not be exhibited in any shore-based museum or visitor center.  These requirements ensure that transferred property is used appropriately and is returned for possible future transfer in the event the material is no longer needed.
MARAD continues to take an active role in supporting memorial ships as long as appropriate obsolete equipment is available to help them interpret and preserve U.S. maritime history.
More information on MARAD's transfer program can be found at the Maritime Administration's artifact transfer program web page.
Last updated: Thursday, November 8, 2018