First African-American Graduate of U.S. Merchant Marine Academy
Joseph B. Williams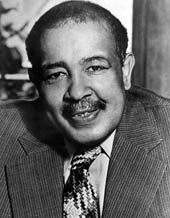 The first African-American Graduate of U.S. Merchant Marine Academy, Joseph B. Williams Sr., was born in Annapolis, Md. He graduated from Hampton Institute in 1942 and from the U.S. Merchant Marine Academy in 1944. He served in the Navy during World War II and again during the Korean War. He sailed as a cadet-in-training aboard the Liberty Ship Booker T. Washington under the leadership of Hugh Mulzac.
After the war, he pursued a career in law, he earned a bachelor of law degree from New York University in 1949 and a master's in 1954.
He was appointed to New York's Family Court in 1966. Early in his career, he won praise as a manager who improved the city's courts, and he tackled politically and socially charged issues as the administrator of the Model Cities program.
Mr. Williams spoke up about crime among blacks, saying, "The problem is ours, and the solution needs to be ours."
He became administrative judge of the criminal courts in 1982, and left that post in 1986 to join the State Supreme Court's Appellate Team were he stayed until his retirement.
He had served as chairman of the Bedford-Stuyvesant Restoration Corporation and chairman of the Cornerstone Baptist Church, and he was active in civil rights groups.
Mr. Williams died of a heart attack in April 19, 1992.
-All photos are used courtesy of the U.S. War Shipping Commission, the Maritime Administration,
the National Archives and the U.S. Naval History & Heritage Command-
Last updated: Thursday, October 25, 2018