SS VIRGINIA DARE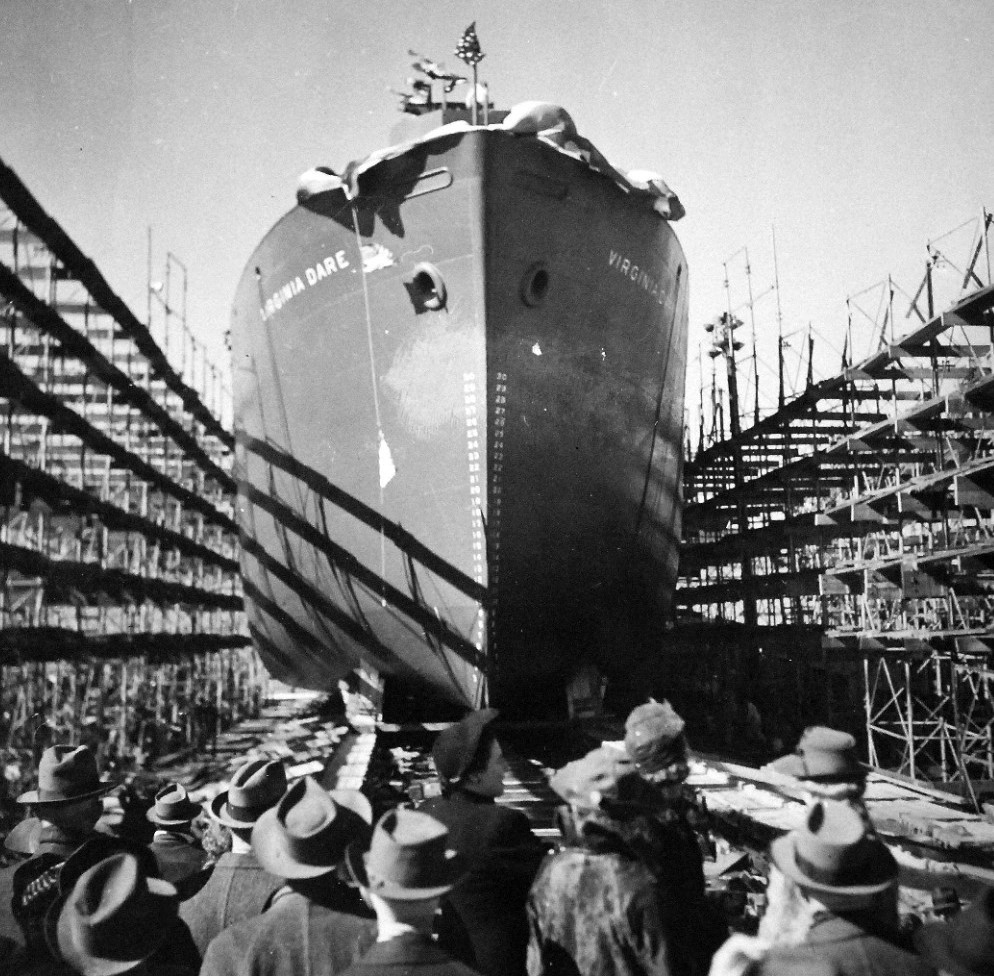 For actions on September 9 – 21, 1942.
Gallant Ship Award Citation:
For seventeen days SS VIRGINIA DARE, loaded with high explosives, was en route to and in a north Russian port where her vital cargo was discharged, throughout this period she repelled countless enemy bomb and torpedo attacks by accurate fire from her guns and by skillful maneuvering.  On a subsequent voyage she was torpedoed in the Mediterranean but, through smart seamanship, was beached and her valuable cargo salvaged.

The stark courage of her heroic crew under violent enemy attacks caused her name to be perpetuated as a Gallant Ship.
SS Virginia Dare was a liberty ship built for the U.S. Maritime Commission by North Carolina Shipbuilding Company.  After Virginia Dare was delivered at Wilmington, North Carolina on March 27, 1942, the War Shipping Administration immediately placed the vessel under operation, with South Atlantic Steamship Line as the general agent.
Virginia Dare departed Wilmington the following day, stopping over for some time in New York City before departing for Reykjavik, Iceland, where it joined Convoy PQ-18.  That convoy was part of a series of joint British – U.S. missions to deliver lend-lease supplies and raw materials to the Soviet Union, primarily through the far-northern Soviet ports of Murmansk and Archangelsk. Merchant cargo ships travelled under the escort of vessels from the Royal Navy and U.S. Navy, and commonly suffered attack from German naval and aerial forces.
Convoy PQ-18 departed Reykjavik on September 7, bound for Archangelsk. Almost immediately, the ships began to meet German resistance.  After enduring several days of submarines attacks, the convoy first encountered German torpedo bombers about 150 miles northwest of Bear Island, Norway.
On the first day of the ensuing sea-air battle, Virginia Dare's U.S. Naval Armed Guard detachment shot down an attacking torpedo bomber.  The next day, as a formation of six German torpedo bombers attacked the ship, the Armed Guard shot down two additional planes, including one which, after being critically damaged, attempted to crash into the bow of the vessel.  Over the course of the day, the Armed Guard shot down four more bombers.  Despite these attacks, Virginia Dare was among the vessels of Convoy PQ-18 to successfully arrive in Russia and deliver its cargo.
On March 6, 1944, Virginia Dare was sailing in the Mediterranean as part of Convoy UGS-33 when it was struck by a torpedo off of Bizerta, Tunisa.  The vessel was able to limp into port at Tunis and discharge some cargo, but when it attempted to leave port, it, began to break up. On March 13, Virginia Dare was intentionally beached by its master and broke in half.  The U.S. Maritime Commission sold salvage rights to the vessel to a European salvor in February 1948 and it was scrapped later that year.
Last updated: Wednesday, October 20, 2021