MARAD's Response to Hurricane Sandy

Hurricane Sandy struck New Jersey's southern coast as a post-tropical cyclone with hurricane-force winds on October 29, 2012. The storm's immense size, coupled with its landfall during high tide, created a storm surge that devastated many coastal communities in New Jersey and New York and caused flooding, heavy damage, and power outages along the eastern seaboard and in some inland states. In addition to causing major destruction to buildings and to the region's infrastructure, the massive hurricane, which later became known as "Superstorm Sandy," was responsible for the deaths of several hundred people in the U.S. and cut power to millions of residents and businesses in the heavily-populated region. 
The U.S. Department of Homeland Security's (DHS) Federal Emergency Management Agency (FEMA) activated their response plan and coordinated with other Federal agencies' emergency response operations. The Department of Transportation's National Response Program staff deployed to FEMA's National and Regional Response Coordination Centers and to their Joint Field Offices.
Thousands of relief workers and first responders rushed to the area to support FEMA's relief efforts. For FEMA, it was critical to accommodate the influx of recovery personnel without occupying hotel space that could otherwise be used for dislocated locals. To assist FEMA, the Maritime Administration (MARAD) activated three of its ships to serve as "floating hotels" to berth and feed hundreds of emergency responders who traveled to the region from all over the country. RRF vessels served a similar role during Hurricane Katrina in 2005. The result was a novel and inventive use of MARAD vessels as floating dormitories and cafeterias.
The location of the State University of New York's Maritime School and training ship, T/S Empire State at Fort Schuyler in the Bronx, made it an ideal place to support FEMA's responders. MARAD activated the school ship on October 31, just in time to provide berthing and meals for 288 emergency responders that first night. Many of the 18 to 24-year-old FEMA Corps members (a disaster response organization created by a partnership between FEMA and AmeriCorps National Civilian Community Corps) had never been on board a ship, so the ship's crew provided them with a "crash course" on shipboard life and safety. Many brought too much luggage, so the crew used cargo nets to haul the suitcases onboard. They later joked that, unlike the airlines, they did not lose anyone's luggage.
Captain Larry Wade, who served as Empire State's port engineer for the response under a General Agency Agreement between MARAD and TOTE Services, later reflected on his guests' fondness for the ship stating that, "they felt so comfortable here now …  that they consider this their home now. They come back and they're happy and playing games… it's incredible."  Wade attributed this to the comforts that the vessel offered, especially on cold and rainy days when the responders would return, "and they'd get to the ship and it's warm, and it's bright, and it's dry. There's good food. They're happy. Now they're home." 
On November 1, MARAD activated two additional ships to house the hundreds of additional responders who were arriving daily. SS Wright, an aviation maintenance ship based in Baltimore, Maryland (now based in Philadelphia) arrived in New York Harbor on the night of November 4. The Massachusetts Maritime Academy's (MMA) training ship, TS Kennedy took just five days to prepare and sail to Staten Island, where it arrived on November 5. 
Kennedy was not scheduled to receive responders until November 6; however, that evening approximately 40 Minnesota Department of Natural Resource's foresters arrived unexpectedly at the pier with their chainsaws in hand looking for a place to sleep. Kennedy's Captain Tom Bushy took them in for the night. The following night, members of the DHS's Surge Capacity Force (DHS employees who volunteered for the response), along with FEMA "mentors," arrived at the ship for berthing. According to Bushy, the ship hosted 597 people on one night. The vast majority included responders from DHS's Transportation Safety Administration, U.S. Customs and Border Protection, the U.S. Coast Guard, and U.S. Immigration and Customs Enforcement.
Like those staying on Empire State, many of the responders had never been on board a ship and had to learn many of the basics of shipboard life, which included navigating the ship safely. The ship's crew had to be flexible, particularly when accommodating the responders' different shifts, so they extended meal hours to ensure everyone received a hot meal.
Wright provided berthing and meals to FEMA and AmeriCorps employees, as well as volunteers from the American Red Cross and Southern Baptists Disaster Relief. The volunteers presented a unique challenge for the ship as their ages and physical abilities varied widely. Many of the volunteers could not physically get into the top bunks aboard ship, cutting into the available berthing space. Captain Fred Walley captured Wright's unique role during Hurricane Sandy aptly, describing the crew's mission: "We need to actually care for these people, so we're going to be the relief workers here. We're going to provide relief for the relief workers."  Joseph McElhinney, the MARAD liaison aboard Wright, stated there were some difficulties "But it was fun, because…it was an adventure for them and they really loved it, and they were willing to listen and learn." In addition to the positive attitude of the volunteers, McElhinney also cited both the large and small scale efforts of MARAD stating "Support from MARAD was fabulous [and] the officers and the crew on the Wright were first rate."
In addition to the three MARAD vessels that activated for Hurricane Sandy, the U.S. Merchant Marine Academy at Kings Point, New York (USMMA), also supported the recovery operations. USMMA activated their hurricane plan before the storm hit, which included moving their small boats to high ground, and sailed the larger vessels out of Kings Point. T/S Liberty Star (currently named Kings Pointer) sailed to Fort Schuyler and docked opposite Empire State where MARAD temporarily used it for command and control purposes. 
Academy staff also kept their fuel station running during and after the storm and supplied fuel to Kings Point Police and other police and emergency units from Nassau County. Academy staff enabled the Coast Guard Station at Kings Point to remain operating after the storm. It was the only Coast Guard Station operating in Sector New York in the week following Sandy. Chris Gasiorek, then the Director of Waterfront Operations and Training, his staff and some midshipmen, cruised throughout New York Harbor and conducted surveys to find suitable berths for Kennedy and Wright. Gasiorek and his crew also ferried MARAD staff via boat to and from the ships, which was critical given the traffic problems and fuel shortages in the region. Steve Jackson, a MARAD Transportation Industry Analyst, described Gasiorek and his team as an "absolutely tremendous help."
MARAD's mission in Hurricane Sandy recovery operations ended in December with the departures of Kennedy and Wright on December 15, and the deactivation of Empire State on December 21. Throughout the operation, the three vessels provided a total of 38,291 berths and 74,450 meals to the responders. While the ships provided the berthing space and meals, MARAD leadership and staff oversaw operations and coordinated with various government and non-governmental agencies to meet their needs. The USMMA also provided assistance and services that contributed to the larger success of the recovery operations in the region. All of these combined efforts contributed to the response's effectiveness, which, enabled government and volunteer organizations to safely conduct their relief missions. MARAD's role and successful partnership with humanitarian workers during Hurricane Sandy is perhaps best summed up by Captain Walley of the Wright: "I think we provided what the mission required, and that is providing berthing, safe berthing, feeding, and that has gone well. And I think the folks who are using the ship, who are living on the ship and using the facilities have been very happy about that because we're here working with them. And the condition we live in is the same condition we extend to them, so they don't enjoy anything less than we do."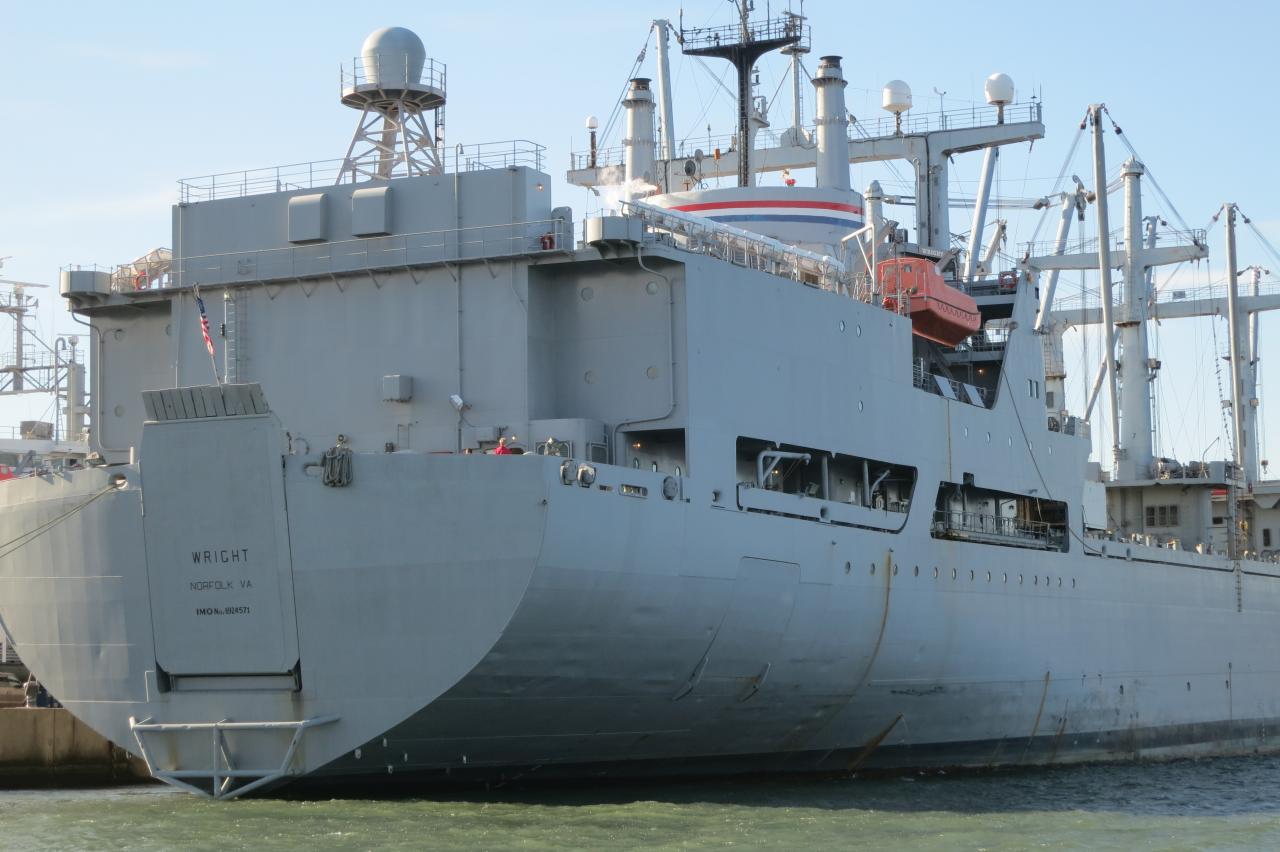 During the mission, MARAD ship managers and general agents employed 120 crew members on the three vessels. Merchant mariners from these companies operated the vessels and provided two meals a day starting with breakfast at 0530, while MARAD personnel acted as liaisons. Relief workers slept in bunks generally reserved for students and mariners, and received their meals in each ship's cafeteria-style galley. In total, the three ships provided 43,987 berths and 777,127 meals to the Red Cross, FEMA Corps, Department of Homeland Security Surge Team, FEMA Community Response teams, Individual Assistance teams, Forest Service, law enforcement, and other non-governmental relief organizations. Captain and crew of Empire State, Kennedy, and Wright all received the U.S. Merchant Marine Medal for Outstanding Achievement, for providing exemplary service following Hurricane Sandy.
Last updated: Monday, April 26, 2021