SS PRESIDENT MCKINLEY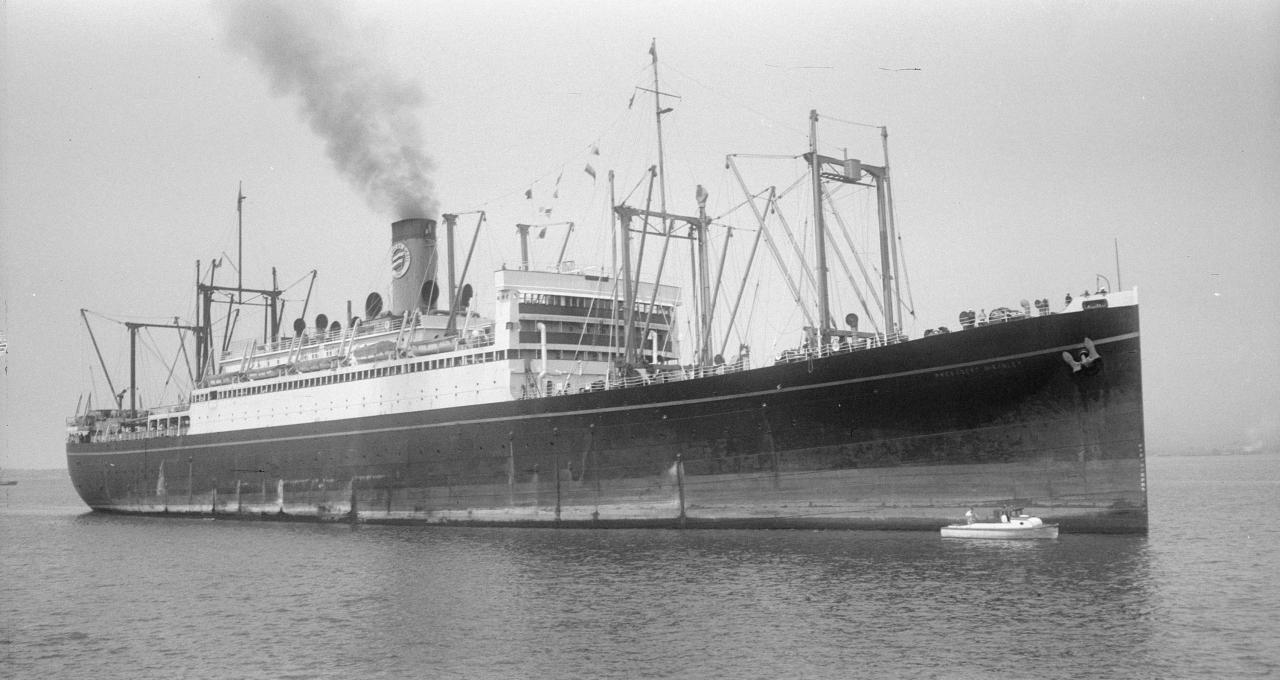 For actions on January 5, 1967
Gallant Ship Award Citation:
During the morning of January 5, 1967, the PRESIDENT McKINLEY received an SOS from the Chinese Ship KWONG SHUN, immediately altered course and raced to aid the distressed vessel. Early the next morning, in heavy seas, rendezvous was made with the KWONG SHUN. The survivors began abandoning ship, but a lifeboat being launched capsized, spilling the men into the sea; they scrambled back aboard their sinking vessel and huddled on deck. The Master of the PRESIDENT McKINLEY with great skill and at considerable risk, due to floating logs broken loose from the KWONG SHUN's cargo, boldly maneuvered alongside the vessel when suddenly the men on deck jumped overboard in an attempt to swim to life rings and lines rigged over the side. In a display of skillful seamanship the PRESIDENT McKINLEY drifted down on the men in the water where crew member descended Jacob's ladders into the water pulling the survivors safely aboard.

The courage, resourcefulness, expert seamanship and teamwork of her Master, officers and crew in successfully effecting the rescue of survivors from a sinking ship under extremely hazardous conditions have caused the name of the PRESIDENT McKINLEY to be perpetuated as a Gallant Ship.
President McKinley, a U.S. Maritime Commission C3-S-A4 type break bulk cargo ship, was built by Western Pipe and Steel in 1946 and delivered directly to American President Lines for commercial operation.
On January 5, 1967, while en route to Japan, President McKinley received a distress call from SS Kwong Shun, a Chinese freighter that was listing and in danger of sinking off the coast of Luzon Island in the Philippines. When President McKinley arrived on scene, Kwong Shun was beginning to sink. While some crewmen got to a lifeboat and made it safely to a nearby ship, the remaining crewmen were tossed into the water when their small workboat capsized. They then climbed back aboard the sinking Kwong Shun and gathered on deck as President McKinley maneuvered in close.
Heavy seas, high winds, and floating logs that had escaped from the sinking ship's cargo holds, made the rescue attempt extremely perilous. Kwong Shun's remaining crew jumped from the sinking ship into the water, while crewmen aboard President McKinley threw life lines and rings and used the Jacob's ladders to pull 10 men from the sea. President McKinley's crew continued to search for survivors after the initial rescue despite poor weather conditions and the floating logs.
In addition to President McKinley receiving the Gallant Ship Award, the ship's master, Captain John F. Bohle, received the Merchant Marine Meritorious Service Medal.
In 1968, American President Lines renamed the ship President Johnson. Pinedale Shipping purchased the ship in December 1969, renaming it Pinedale, and in February 1970, the company sold it to a Taiwanese company for scrap.
Last updated: Wednesday, October 20, 2021