Frequently Asked Questions - Port Infrastructure Development Grants
My Application for a FY22 PIDP Grant was unsuccessful. Can I learn why it was not chosen?
MARAD is available to provide application de-briefs to unsuccessful FY22 PIDP applicants. To schedule a debrief, one of the representatives of the applicant should send an e-mail to the account, PIDPgrants@dot.gov. MARAD will respond to the applicant with suggested dates and times for a call. PIDP Debriefs usually last no more than an hour, including time for questions from the applicant.
When does MARAD anticipate announcing PIDP grant awards to successful applicants?
Final awards were announced by the Secretary of Transportation on Friday, October 28, 2022. You can find the announcement here.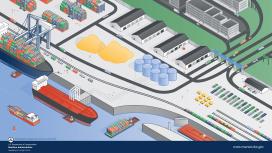 Last updated: Friday, November 4, 2022