Frequently Asked Questions - Port Infrastructure Development Grants
When is the application deadline?
The deadline for all application materials is April 28, 2023 at 11:59:59 pm Eastern.
Where can I submit the application?
Final applications must be submitted through Grants.gov.
Will there be informational webcasts for PIDP 2023?
To provide technical assistance to potential applicants, MARAD hosted a series of webcasts on the 2023 Port Infrastructure Development Program (PIDP) grant application process:
The "How to Apply for a FY23 PIDP Grant" webcast was held on February 15, 2023

The "Preparing a Benefit-Cost Analysis for a Large Project" webcast was held on March 2, 2023

The "Economic Vitality: Small Projects at Small Ports" webcast was held on March 8, 2023
Please see this webpage to view the archived webcasts.
What if I am having technical issues with grants.gov?
Please refer to the following links for technical issues with grants.gov:
You can also contact Grants.gov Customer Support Hotline at 1-800-518-4726
How much funding is available this year?
The Bipartisan Infrastructure Law provided $2.25 billion for the PIDP program over five years (2022-2026), $450,000,000 of which is available in fiscal year 2023. An additional $212,203,512 was made available to the program under the FY2023 Consolidated Appropriations Act, resulting in a total of $662,203,512 in FY 2023 PIDP grant funding.
What are the major changes from the FY 2022 PIDP Round?
The FY 2023 NOFO includes updated selection considerations pertaining to: Climate Change and Sustainability; Equity and Justice40; and Workforce Development, Job Quality, and Wealth Creation, (as described in more detail in Section D of the NOFO). Other changes have been made throughout the FY 2023 PIDP NOFO to better illustrate application requirements.
Applicants who are planning to re-apply using materials prepared for prior competitions should ensure that their FY 2023 PIDP application fully addresses the statutory merit criteria and selection considerations described in this notice and that all relevant information is up to date.
Who can receive PIDP Grants?
A port authority, a commission or its subdivision or agent under existing authority.

A State or political subdivision of a State or local government;

An Indian Tribe.

A public agency or publicly chartered authority established by one or more States.

A special purpose district with a transportation function.

A multistate or multijurisdictional group of entities; or

A lead entity described above jointly with a private entity or group of private entities (including the owners or operators of a facility, or collection of facilities, at a port). Federal agencies are not eligible applicants for the FY 2023 PIDP.
Are projects improving Federally owned facilities eligible?
No, improvements to Federally owned facilities are not eligible for PIDP grant funds. Examples of Federally owned facilities include infrastructure owned by the National Park Service or General Services Administration.  However, projects on facilities that are owned by an eligible applicant but located on Federally owned land for which the title or maintenance responsibility is vested in the Federal Government, such as Bureau of Indian Affairs-owned roads, are eligible.
What types of projects are eligible for PIDP Grants?
Eligible projects for FY 2023 PIDP grants shall be located either within the boundary of a port, or outside the boundary of a port and directly related to port operations or to an intermodal connection to a port. Grants may be made for capital projects that will be used to improve the safety, efficiency, or reliability of:
(I) the loading and unloading of goods at the port, such as for marine terminal equipment;
(II) the movement of goods into, out of, around, or within a port, such as for highway or rail infrastructure, intermodal facilities, freight intelligent transportation systems, and digital infrastructure systems;
(III) operational improvements, including projects to improve port resilience; or
(IV) environmental and emissions mitigation measures; including projects for—
(aa) port electrification or electrification master planning;
(bb) harbor craft or equipment replacements or retrofits;
(cc) development of port or terminal microgrids;
(dd) provision of idling reduction infrastructure;
(ee) purchase of cargo handling equipment and related infrastructure;
(ff) worker training to support electrification technology;
(gg) installation of port bunkering facilities from ocean-going vessels for fuels;
(hh) electric vehicle charging or hydrogen refueling infrastructure for drayage and medium or heavy duty trucks and locomotives that service the port and related grid upgrades; or
(ii) other related port activities, including charging infrastructure, electric rubber-tired gantry cranes, and anti-idling technologies.
How can I determine if my project is in a Community Development Zone or a Historically Disadvantaged Community?
For additional information on Community Development Zones and Historically Disadvantaged Communities, please visit the following link:
https://maritime.dot.gov/ports/port-infrastructure-development-program/community-development-zones-historically  
Additionally, DOT is providing a mapping tool to assist applicants in identifying whether a project is located in a Historically Disadvantaged Community at https://usdot.maps.arcgis.com/apps/dashboards/d6f90dfcc8b44525b04c7ce748a3674a.
Use of this map tool is optional; applicants are welcome to provide an image of the map tool outputs, but the designation of project location and eligibility as a Historically Disadvantaged Community will be verified by the Department upon receipt of the application. Please note that for the PIDP program, the Historically Disadvantaged Community designation is based on where the majority of project costs will be expended (not necessarily where the majority of project is constructed). If the project crosses boundaries of Historically Disadvantaged Community and a non-Historically Disadvantaged Community, please provide sufficient details by component in the project budget for the Department to verify where the majority of project costs will be expended. For technical assistance using the mapping tool, please contact GMO@dot.gov.
How do I create a Project Location File for my application?
As described in Section D.2 of the NOFO Applicants should submit with their application a file with project location identification. The file is needed to verify urban/rural, HDC, and CDZ designations. It can be submitted in one of the following file types: Shapefile, Geodatabase (GDB), GEOJSON, KML/KMZ or CSV. Please note that the project area listed in the file should only include the direct physical location of the infrastructure project. It should not include a broad service area or area of project impact. Therefore, accuracy in the location file is important.
To prepare one of these files, follow these basic instructions:
Open a publicly available online mapping tool (Google Earth or GEOJSON are recommended).

Identify your project location. Use the tools to draw a line or make a point to represent the project area. The project area should only include the direct physical location of the infrastructure project; it should NOT include a broad service area or area of project impact.

Export, save, and attach to your application one of the acceptable formats (Shapefile, GEOJSON, KML/KMZ, CSV)
More detailed instructions on the process for preparing a Project Location File can be downloaded here: "PIDP 2023 Project Location File Instructions".
How can I determine if my project qualifies as a Small Project at a Small Port? 
To qualify as a Small Project at a Small Port under FY 2023 PIDP an applicant must be defined as a "Small Port" that is requesting less than or equal to $11.25 million in PIDP funding.
A Small Port is a coastal seaport, Great Lakes, or inland river port to and from which the average annual tonnage of cargo for the immediately preceding three calendar years from the time an application is submitted is less than 8,000,000 short tons, as determined using U.S. Army Corps of Engineers data or data provided by an independent audit the findings of which are acceptable to the Secretary. For joint applications, MARAD will use the status of the lead (eligible) applicant when determining whether the project is for a small port. In determining whether the applicant qualifies as a small port, MARAD will use the tonnage results of the U.S. Army Corps of Engineers port area in which the project is located. Generally, the findings of an independent audit provided by an applicant will only be acceptable if MARAD cannot otherwise validate the applicant's status using the U.S. Army Corps of Engineers data.
To locate their historical port tonnage data, PIDP applicants can use the U.S. Army Corps of Engineers' Waterborne Commerce Statistics Center's Ports and Waterway Web Tool, which is found here: https://ndc.ops.usace.army.mil/wcsc/webpub/#/. To perform a search with the Web tool, select the most recent year for available data (2020) on screen, then select your port's region, then type your port's name into the box that asks for "port/waterway name". Search results should automatically populate (lower down on the screen). Of the options presented, click on the name of your port, then you will be given the option to print a 5-year tonnage report. Please note, you may need to try multiple variations of your port's name for it to appear as a search result (E.x. If you search by "Port of [name]" and nothing appears then you may want to try typing [name] for the second search.)
If you are unable to find your port in the search results, or if you are uncertain as to which port area your project belongs, please send an email to PIDP program staff at PIDPGrants@dot.gov requesting further assistance in making the Small Project at a Small Port determination.
Are projects that have received Federal funding eligible?
Yes, PIDP grants that use other sources of Federal funding, or have in the past, are eligible as long as the facility is owned and operated by a non-Federal, eligible applicant.  For projects designated as urban, total Federal funding cannot exceed 80 percent of total future eligible project costs.  For any project with other Federal funds, the applicant must independently satisfy matching requirements for those Federal funds.
Recipients of past PIDP grants may apply for funding to support additional phases of a project previously awarded funds in the PIDP program.
How many applications can an eligible applicant submit?
Applicants may submit a total of One (1) project application (planning and/or capital) for a PIDP grant. If an applicant submits multiple applications, only the last one received by MARAD will be considered.
What does the Department mean by the term "leverage"?
The term leverage, as used in the PIDP NOFO, refers to the degree to which a project uses non-federal sources of funding to pay for grant project costs. This can include State, local and private sector funding.
Where can I find information on how to develop my application's benefit-cost analysis?
All applicants should carefully review the DOT's 2022 Revised Benefit-Cost Analysis Guidance, which provides general information and guidance on conducting a benefit-cost analysis for grant applications.
That guidance is available here:
https://www.transportation.gov/sites/dot.gov/files/2022-03/Benefit%20Cost%20Analysis%20Guidance%202022%20%28Revised%29.pdf
What are some common application mistakes to avoid?
A few helpful hints:
Proof-read your application before it is submitted. Double check your work in Grants.Gov. Ensure that you include all the files you need to submit, especially any files or attachments referenced in your application narrative, with your final application.

Submit your application before the April 28, 2023

11:59:59

Eastern application deadline. Applications submitted after the deadline will not be considered, unless an applicant is able to provide verification that a technological issue error prevented their application from being correctly submitted.

Please submit one application in Grants.Gov. If a duplicate application is submitted, MARAD will accept the last application received.

Pay close attention to the content and format of your BCA. Among other things, ensure the BCA is clear and reproducible and free of technical errors or miscalculations. Remember to include any spreadsheet files (in their original format, such as Excel) and provide any technical memos describing the analysis (including, as appropriate, the source of values used that are different from the values suggested in the USDOT BCA guidance document.

Ensure that you properly document that all parties to a project have the authority to carry out the project and that each party is clearly aware of their respective roles.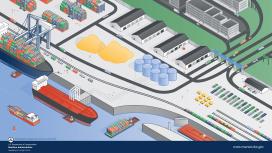 Last updated: Wednesday, March 22, 2023